New Here?
Welcome to JDK's Traditional Taekwondo in Perth Western Australia
This martial arts blog was started in April 2007 by
Colin Wee
as a resource available to all hard style martial artists. My aim was to document just one or two techniques as they are practiced within my weekly taekwondo classes held in Perth, Western Australia. Many of the posts are written after or soon after each class, and were opportunities to discuss issues that I may not have covered thoroughly in class. This may explain the wildly varying quality of the articles.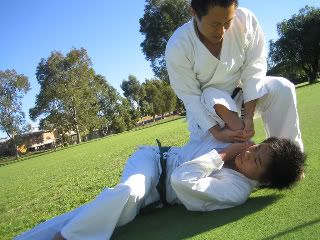 Colin applying a takedown and handlock on student (circa 2007)
Colin is associated with the American Karate and Taekwondo Organization based in Dallas, Texas. The training from the SMU Martial Arts Club was tough, effective, and was transmitted by very knowledgeable and skillful black belt instructors (see
This Day in History 1991
).
Colin started Joong Do Kwan Traditional Taekwondo in Perth Western Australia in 2000. JDK, whilst a small school, has garnered a good amount of attention through the continuous sharing of video training resources over a period of two years, some of which is now available on our
YouTube channel
.
The continued study of Traditional Taekwondo by Joong Do Kwan involves exploration and innovation - reaching both backward in time to Okinawan and Chinese arts, and forward for modern developments in sport science. This is all to curate a system that represents a distinct historical snapshot of Traditional Taekwondo, and to establish its relevancy for the 21st century.
Our training methodology aims to shut opponents down by anticipating the attack, and curtailing their ability to launch counter measures against our own tactics. It is not simply that we're just doing everything that's not allowed under sporting rules - the end goal influences our training, and how we tap into traditional methods.
Sampling of Posts on Traditional Taekwondo Blog
If you would like to come say hi, please check out our
Traditional Taekwondo FB Page
. No, you don't have to practice Taekwondo to join us there.
Beginners must read
Etiquette
guidelines, and should visit the
Beginner Information
page.
Welcome along for the ride.
Regards,
Colin Wee
Chief Instructor, JDK
Author, Traditional Taekwondo Perth
--
[
Traditional Taekwondo Perth
|
YouTube
|
Subscribe
|
Sitemap
]
Please support us by liking our FaceBook page
click here