Welcome to Colin's Traditional Taekwondo Technique Blog.
Traditional Taekwondo Techniques was started in April 2007 as a resource available to all hard style martial artists. My aim was to document just one or two techniques as they are practiced within my weekly taekwondo classes held in Perth, Western Australia. Many of the posts are written after or soon after each class, and were opportunities to discuss issues that I may not have covered thoroughly in class.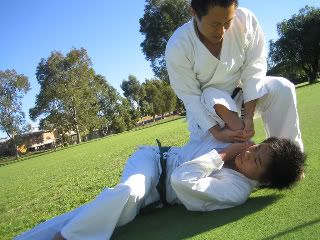 Colin applying a takedown and handlock on student (circa 2007)
Traditional taekwondo to me is the version of Taekwondo that was created in the 1940s to the early 1960s characterised by a strong influence from the hard style Japanese karate. Taekwondo then was an idea to improve on that somewhat rigid system as it was practiced in the 1920s and 1930s, and to apply it for the training of military personnel. In my lineage, traditional taekwondo was brought over to the United States by a South Korean called Jhoon Rhee, who settled in the South West part of the United States in 1956 (see my
Australasian Taekwondo Magazine Interview
).
Traditional Taekwondo established a strong presence there and was known by several names - Korean Karate, American Karate, and American Taekwondo. I would ultimately be priveleged to learn this American Karate from GM Keith Yates' Southwest Taekwondo Association, now known as the American Karate and Taekwondo Organization. The training I received from the SMU Martial Arts Club was tough, effective, and was transmitted by very knowledgeable and skillful black belt instructors (see
This Day in History 1991
).
While it has been 13 years since I've left the SMU Martial Arts Club, I have not forgotten the friendship, kinship, and the camaraderie that welcomed this external black belt into their ranks. I also cannot forget that our style has a very compelling story to tell - that we stand in between a rich history but a modern trajectory that has tried to dissociate with that history.
Anyway ... let me thus warmly welcome you to my blog. You may choose to search for articles by keywords found in the labels list I have created on the lower right pane. Otherwise you may choose to start on several articles that showcase this blog. I try to write non-authoritatively and informally, and I invite you to share your thoughts on each topic as you can. I myself have learned so much through my online discussions.
Some Posts on Traditional Taekwondo Blog
Otherwise check out the
sitemap
that I'm putting together ...
If you would like to come say hi, please check out our
traditional taekwondo facebook group
. No, you don't have to practice taekwondo to join us there.
Welcome along for the ride.
Regards,
Colin
--
Colin Wee 6th Dan
Traditional Taekwondo
ps. Feel free to use
feedwhip to subscribe to this blog
using email or rss feeds.