Do-san: Defending Against Straight Blast Punches to the Face
I posted last week on a line drill focusing on a
jab and opposite cross
and Pat from Mokuren Dojo came back with
Don't just do Tsuki Forever
, a great continuation from the previous post. This week I thought I should cover a great drill we introduce at Do-san/7th kyu to defend against straight blast or continuous punching to the face. This move is based off
the R spear hand into L mid block arm action introduced in Do-san steps 6&7
.
In the video you see 7th kyu Jacqui defending against basic punches done by 9th kyu Christian. The video is fairly self explanatory - the blocks come to the outside of Christian's forearms. The deflection is done conservatively in order to deal with the speed of the punches - it allows Jacqui to block repeatedly without getting her nose knocked off.
7th Kyu Adina faces off 6th Kyu Jacob - both hands held in front and as you can see her right hand comes back to block the outside of Jacob's punch.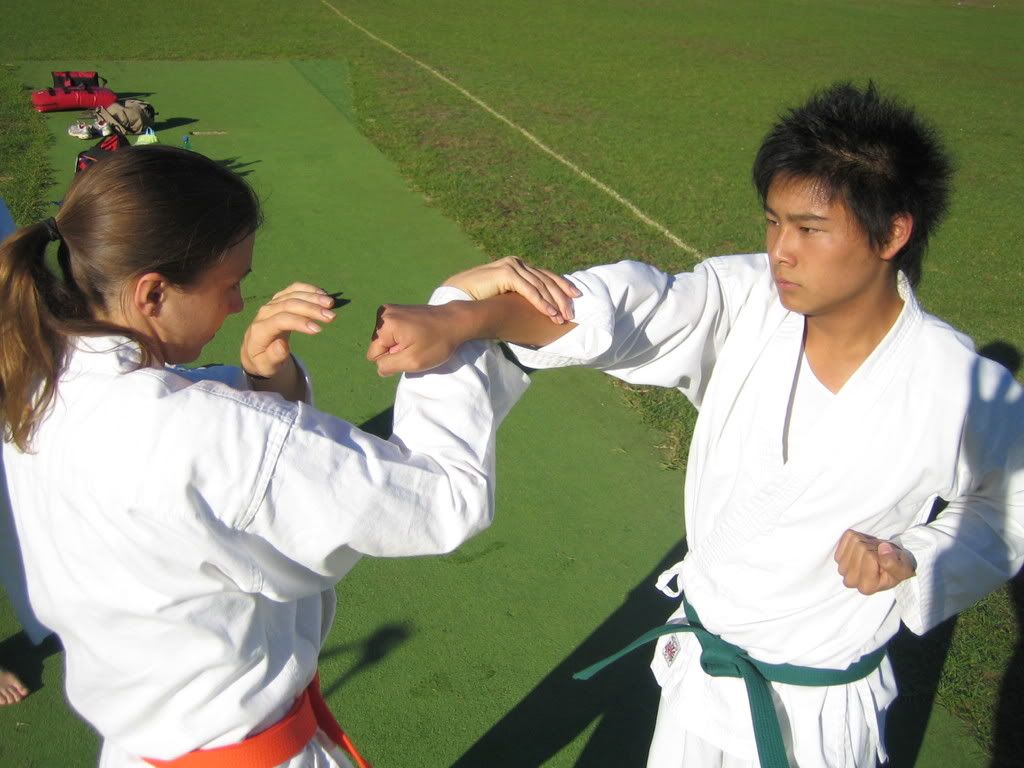 The next shot in the sequence you can see Adina raising her elbow to block Jacob's left punch. The punch is only deflected so much in order to keep the blocking arms held high and in front of the face.
Last close up - look at how the back hand protects the face in case the block misses. Also look at how the face is tucked down in the neck. There is some intense concentration involved, folks. Any miss is a near miss, let me tell you ... the heart rate really goes up with the punches come hard and fast.
--
Colin Wee
Traditional Taekwondo Technique Workshop