Dan-gun: Middle Block Drill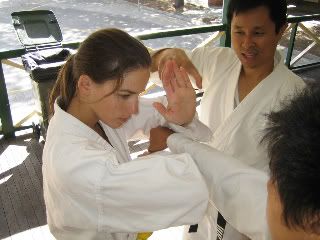 I've been invited to do an interview for the Australasian Taekwondo Magazine, and have been trying to organise some photos of myself and my students. It's really difficult to capture good shots. This is one taken during a drill featuring a middle block done as a defence against a front lunge punch - a requirement for yellow belts in my system.
Jacqui's left hand in an open palm position was to show her that she could use her back hand to deflect other strikes, and is a transition before she traps the extended strike and 'blocks' her opponent's nose with her right fist.